If you would like to contact the team at Kevin Hackett Optometrist, we invite you to call or email us on the details provided below.
See better. See us; we can't wait for you to see the difference.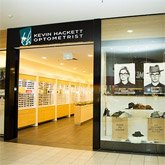 Hours of Operation
Mon-Wed: 8.30am–5pm
Thur : 8.30am–6pm
Fri: 8.30am–5pm
Sat: 8.30am–12pm
Sun: closed
Concessions
We offer bulk billing to eligible pension and health care card holders. We also provide eye care and spectacles to the Department of Veteran Affairs and Gold Veteran's card holders.
Accepted Payment Methods
EFTPOS
Visa
MasterCard
Direct Debit
Cash
Cheque